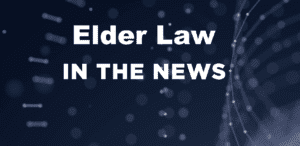 A U.S. bankruptcy court rules that a son's judgment debt to a nursing home for his mother's care is dischargeable in bankruptcy, finding that the son's failure to apply all of his mother's income and assets towards her care did not constitute an attempt to defraud the facility. Geriatric Facilities of Cape Cod, Inc. v. Georges (Bankr. D. Mass., No. 19-01096-MSH), June 22, 2021).
In April 2010, acting pursuant to a power of attorney, Jonathon D. Georges signed a services agreement with Pleasant Bay, a Massachusetts nursing home, for it to provide care to his mother, C. Doris Georges. The contract named Mr. Georges as a "responsible party" and obligated him to apply his mother's funds and assets to pay for the services being rendered to her.  At the time the contract was signed, the nursing home's monthly cost typically exceeded $8,000, while Ms. Georges' monthly income was limited to $1,389 in Social Security and $1,021.24 from an annuity.
In March 2012, Mr. Georges sold his mother's condominium to pay her obligations to Pleasant Bay, netting $247,395.03.  Mr. Georges paid $104,128.91 to the nursing home to bring his mother's account current and spent another $63,500 on gifts to various family members, including himself.  By the fall of 2011, with the sale proceeds having been nearly all spent, Mr. Georges applied to Medicaid (MassHealth) for long-term care benefits for his mother.  At the same time, he stopped paying Pleasant Bay with his mother's income, believing that once Medicaid was approved the balance would be resolved.  Ultimately, the Medicaid application was denied due to the substantial gifts to family members.  Unable to reach an agreement with Pleasant Bay to settle the balance, Mr. Georges used his mother's income that he had been setting aside to move her to another facility.  In October 2012, Pleasant Bay sued Mr. Georges in state court for the services rendered.  The case settled prior to any hearings when Mr. Georges agreed to a judgment being entered against him in the amount of $128,000, plus interest.  Ms. Georges died in 2013.
In May 2019, Mr. Georges filed a voluntary petition for relief under Chapter 7 of the bankruptcy code and included the judgment debt to Pleasant Bay in the bankruptcy schedule.  Pleasant Bay objected to the discharge of its debt, arguing that the debt was excepted from discharge because Mr. Georges had obtained the debt by false pretenses or false representations when he promised to devote all of his mother's assets and income to pay for her care when he had no intention of doing so.  Mr. Georges countered that he had not understood or agreed that all of his mother's income and assets had to be used to pay Pleasant Bay for her care and that he made gifts to himself and family members in accordance with his understanding of her wishes.
The U.S. Bankruptcy Court for the District of Massachusetts finds that "no reasonable reading of the services agreement supports Pleasant Bay's interpretation that Ms. Georges and Mr. Georges were contractually bound to devote every cent of Ms. George's income and assets to pay Pleasant Bay."  The court found that "[h]ad Pleasant Bay wanted to bind its residents to devoting the entirety of their income and assets to the payment of nursing home expenses, to the exclusion of everything else, it needed far more detailed and explicit contractual terms."
For the full text of this decision, click here.