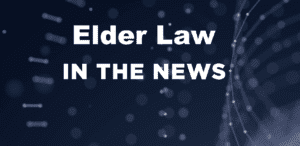 Massachusetts' highest court holds that a conservator was acting pursuant to a judge's approval when she evicted a tenant and sold a house, so she is a quasi judicial officer and is immune from claims that she breached her fiduciary duty and converted property. Hornibrook v. Richard (Mass., No. SJC-13030, Aug. 2, 2021).
Kathleen Hornibrook lived with her son, Francis Hornibrook. After elder services learned she was being neglected, the court appointed an attorney, Cherilyn Richard, to act as her conservator and her other son, Kevin Hornibrook, to act as guardian. Ms. Richard attempted to evict Francis from Ms. Hornibrook's home multiple times. Ms. Richard outlined the need to evict Francis in a motion to the court to sell the house, and the court authorized the sale. During this time, Ms. Hornibrook lived in a nursing home and received MassHealth (Medicaid) benefits. After she died, her estate was required to reimburse MassHealth for the benefits she received.
Kevin filed a complaint against Ms. Richard, alleging breach of fiduciary duty and conversion, among other things. He argued that she wasted Ms. Hornibrook's resources by attempting to evict Francis and converted Ms. Hornibrook's house. Ms. Richard filed a motion to dismiss, arguing that she had quasi judicial immunity because she was acting pursuant to court order. The trial court denied the motion in part, ruling there was a question of fact as to whether she acted outside the scope of her duties. Ms. Richard appealed.
The Massachusetts Supreme Judicial Court reverses, holding that "a conservator acting pursuant to judicial approval is a quasi judicial officer and is entitled to absolute immunity for conduct that is authorized or approved by the probate court." According to the court, the judge's authorization of the sale extended to evicting Francis, so she was acting within the scope of her duties when she evicted him. The court concludes that "the sale of the home was done pursuant to an order of the probate court, and therefore the [Ms. Richard] is immune from the claims as alleged."
For the full text of this decision, go to: https://www.mass.gov/files/documents/2021/08/02/k13030.pdf