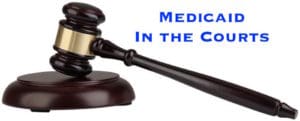 The Second Circuit rules that a district court does not have to abstain from hearing a challenge to a state court's validation of a lien on a Medicaid recipient's share of his grandmother's estate. Cavanaugh v. Geballe (2nd Cir., No. 21-571-cv, March 17, 2022).
Brian Cavanaugh received rehabilitation services through Connecticut's Medicaid health insurance program for about a month. Seven years later, Mr. Cavanaugh's grandmother died, and he inherited $44,565.96. The state filed a claim against the grandmother's estate to recover the Medicaid benefits paid on Mr. Cavanaugh's behalf. The state opposed the proposed distribution of the estate, and Mr. Cavanaugh challenged the state's standing. The probate court determined that the state did have standing.
Mr. Cavanaugh filed a § 1983 claim in federal court, alleging that the state's lien violated the 14th Amendment and provisions of Medicaid law. He asked for a declaratory judgment that the state did not have a lien on his inheritance and for an injunction preventing the state from asserting a lien. The state moved to dismiss, arguing that the court was required to abstain under the doctrine enunciated in Younger v. Harris, 401 U.S. 37 (1971), due to the ongoing state proceedings. The district court ruled that the Younger doctrine applied and granted the motion to dismiss.
The U.S. Court of Appeals for the Second Circuit vacates and remands, holding that the Younger doctrine "does not prevent a federal court from exercising its jurisdiction simply because its decision might contradict a state court decision." The court rules that while federal courts cannot interfere "with core state court civil administrative processes, powers, and functions," the state case "was no more than a run-of-the-mill challenge to a claim for money," and the challenge to the Medicaid lien "would not hinder the probate court's basic authority to enforce its orders."
For the full text of this decision, click here.