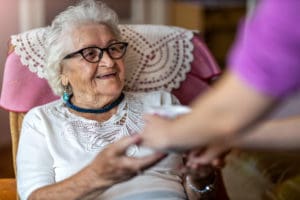 Navigating the challenges of aging can be stressful for older adults and their caregivers. Geriatric care managers support and direct older adults and their family members as they plan and arrange care. These care managers are also sometimes known as aging life care managers.
What Is a Geriatric Care Manager?
The National Institute on Aging describes geriatric care managers as "professional relatives" for older adults. They can organize and manage care when family members are overwhelmed or live too far away to assist their loved one. When family members live apart from their older loved ones, the geriatric care manager can check in on them and keep track of their ongoing needs.
Aging life care coordinators can have backgrounds in various fields related to aging, such as nursing, psychology, or social work. Since they have professional experience working with older adults, they have insight into the kinds of issues affecting people as they age. They can also provide valuable assistance for older adults in need of support. Their role is similar to professional patient advocates, but they focus on helping older adults coordinate elder care.
What Do Geriatric Care Managers Do?
According to AARP, geriatric care managers guide individuals through many aspects of care, the following among them:
Performing assessments highlighting unmet needs to determine older adults' care requirements.
Supporting patients in creating short-term and long-term care plans.

For instance, if your loved one has been diagnosed with a progressive disease, such as dementia, their needs will change over time. You might need to arrange for future care, when their ability to live on their own declines.

Helping individuals find services that fit their needs and selecting an appropriate assisted living facility, nursing home, or in-home service.
Arranging medical visits as well as transportation.
Providing legal, financial, and medical referrals.
Arranging respite care when primary caregivers need to temporarily step away from their duties.
Responding to caregivers' and patients' questions.
Explaining complex and emotionally challenging topics, such as planning for long-term care for individuals with dementia.
Aiding with communication and cooperation in instances when multiple family members work together to assist an older adult.
Identifying social service programs for older adults who are eligible.
Paying for an Aging Life Care Manager
According to AARP, most individuals pay for geriatric care management services out of pocket. Insurance rarely covers aging life care coordination. Individuals can expect to pay between $90 and $250 per hour for assistance.
Neither Medicare nor Medicaid covers aging life care managers, as geriatric care managers do not directly provide medical services.
The majority of private insurance policies, including Medigap and Medicare Advantage, do not cover senior care coordination.
However, some employee assistance programs cover aging life care management fees because caregiving can affect employee productivity.
Geriatric care managers can be expensive. However, they provide valuable services for older adults and their families, lessening caregivers' responsibilities and providing access to information family members could lack. These aging specialists can also be invaluable for those without close family or friends willing to assist with coordinating elder care.
Finding Geriatric Care Management
Individuals can find geriatric care managers in their area via the Eldercare Locator or the Aging Life Care Association.
Before hiring an aging life care manager, take time to do your research. Determine whether the elder care specialist or agency can provide the kind of guidance and level of interaction you seek.
Consider whether they are licensed and how long they have been providing services.
Also, assess whether they are available round-the-clock for emergencies or limit their availability to business hours.
Ask about their communication style. How will they share information?
What is their payment structure? How much do they charge per hour?