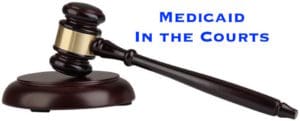 An Illinois appeals court rules that a Medicaid applicant could not appeal the Medicaid agency's refusal to reopen her case because such a decision does not require due process, unlike the decision to deny her application. Flachs v. Illinois Department of Human Services (Ill. Ct. App., 4th Dist., No. 4-20-0349, Aug. 20, 2021).
Illinois nursing home resident Alberta Flachs filed a Medicaid application in September 2017. The Medicaid agency requested verifications of her financial information. Ms. Flachs did not submit the verifications and the agency denied her application on March 3, 2018. On March 8, 2018, Ms. Flachs submitted the required documentation and requested that the agency reopen her case. On January 9, 2019, the Medicaid agency notified Ms. Flachs' nursing home by phone that it had denied the request to reopen the case.
Ms. Flachs filed an appeal of the refusal to reopen the case. She argued the Medicaid agency should have provided written notice of the denial and that her appeal was timely because it was filed within 60 days of the refusal to reopen the case. An administrative law judge found that the state did not have jurisdiction over her appeal because it was filed more than 60 days after her Medicaid application was denied. Ms. Flachs appealed to court.
The Illinois Appellate Court, Fourth District, affirms, holding that Ms. Flachs did not have the right to appeal the Medicaid agency's decision to refuse to reopen her case. According to the court, the Medicaid agency's decision not to reopen Ms. Flachs' application was not a decision disposing of the application or a decision regarding eligibility, which would require written notice and a hearing. Instead, the court rules that the "decision not to reopen [Ms. Flachs'] application was merely a determination that plaintiff failed to meet the threshold requirement to obtain a reopening of her application."
For the full text of this decision, click here.