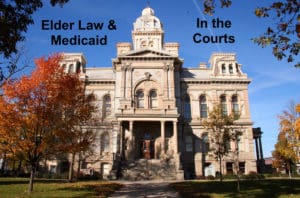 An Ohio appeals court rules that a nursing home failed to prove that assets transferred from a nursing home resident to her agent under a power of attorney were fraudulent transfers because the agent testified credibly that she was acting according to the resident's authority. Montefiore Home v. Fields (Ohio Ct. App., 8th Dist., No. 110183, Oct. 21, 2021).
Hazel Thornton entered a nursing home and named Faye Fields as her agent under a power of attorney. Ms. Thornton applied for Medicaid and was approved with a patient pay amount. She made several payments to the nursing home and directed her retirement payments be sent directly to the nursing home. Ms. Fields assisted Ms. Thornton with her banking needs, including withdrawing money from her account and transferring money directly from bank to bank. Some of the withdrawals lined up with payments to the nursing home, but some did not. Ms. Thornton died owing the nursing home $20,388.34.
The nursing home sued Ms. Fields for promissory estoppel, fraudulent transfer, and unauthorized acts of a power of attorney. Ms. Fields first argued that she was not liable because she did not sign Ms. Thornton's admission agreement, but the appeals court reversed the trial court's summary judgment in her favor and remanded the case. At trial, Ms. Fields argued that all the withdrawals and transfers made from Ms. Thornton's account were done at Ms. Thornton's direction, and that while she didn't have receipts for everything, Ms. Thornton used these funds for groceries, decorations, television, phone, and social activities. After a trial, the court found in favor of Ms. Fields, and the nursing home appealed.
The Ohio Court of Appeals, Eighth District, affirms, holding that the nursing home failed to prove the assets were fraudulently transferred to Ms. Fields. According to the court, "although documentary evidence certainly would have been helpful to establish the expenditures made by [Ms.] Thornton, [Ms.] Fields provided credible testimony to explain the bona fides of the transactions" and evidence showed that "[Ms.] Thornton was a competent woman who was in control of her payments to [the nursing home] and of her own funds and spending habits." One judge dissents, stating that the "nature of the bank-to-bank transfers completed by [Ms. Fields] during the relevant time periods were troublesome and raised serious inferences of fraud."
For the full text of this decision, go to: https://www.supremecourt.ohio.gov/rod/docs/pdf/8/2021/2021-Ohio-3734.pdf