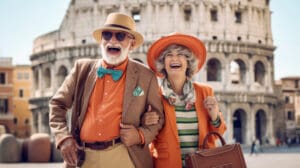 Concerned about negotiating the airport security checkpoint with a frail elderly or disabled traveler? Now there is a dedicated hotline that travelers with disabilities or medical conditions and their families can call with questions or concerns about the security screening process.
According to the Transportation Security Administration (TSA), the hotline provides travelers with information about navigating often arduous airport security checkpoints. Although not spelled out in detail, the TSA's original press release seems to offer hope that by calling 72 hours prior to arrival at the airport, travelers with disabilities or medical conditions will somehow be able to notify airport security officers of their trip, with the hope that those officers will be better prepared to handle their needs when they actually reach security.
The hotline, which has been named TSA Cares (presumably because the TSA is trying to counter numerous incidents where elderly or disabled passengers encountered problems at checkpoints), is available Monday through Friday from 9 am to 9 pm EST at 1-855-787-2227.
"TSA Cares provides passengers with disabilities and medical needs another resource to use before they fly, so they know what to expect when going through the screening process," said TSA Administrator John Pistole. "This additional level of personal communication helps ensure that even those who do not travel often are aware of our screening policies before they arrive at the airport."